YOU ARE REQUIRED TO READ THROUGH THIS BOOK AND ANSWER EVERY LESSON AHICEVEMENT TEST. ENJOY READING...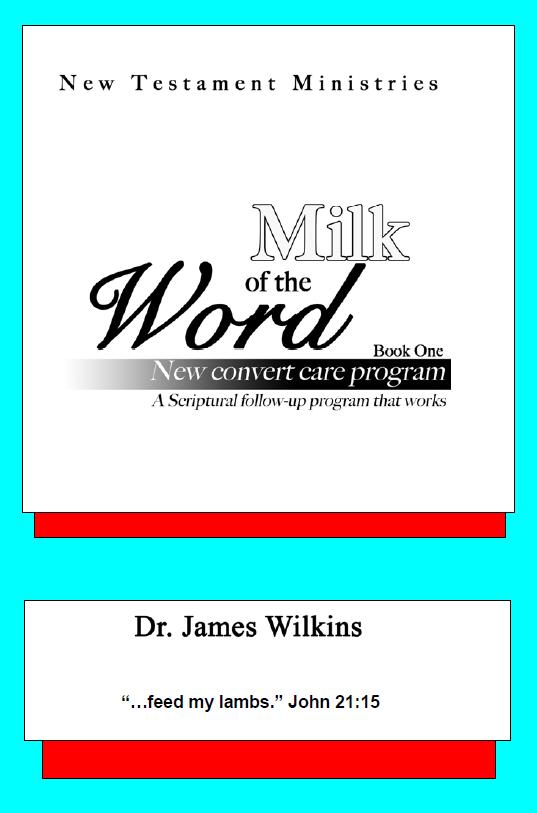 http://saltlakebiblecollege.org/library/Lib%20M/Milk%20of%20the%20Word.pdf[img]


10 REASONS WHY WE BELIEVE THAT PERSONAL
DISCIPLESHIP (SPIRITUAL PARENTING) IS NEEDED,
IN ADDITION TO CORPORATE DISCIPLESHIP

1. The generally accepted definition of "discipleship" is distorted –
Generally speaking, in the Christian community the term "discipleship" has become synonymous with "teaching". Thus anyone who "teaches" is thought by many to be fulfilling the mandate to "make disciples". Biblical discipleship carries the thought of a deeper interaction between the discipler and the believer being discipled than that of simply teaching. While teaching is a crucial component of the discipleship process, discipleship needs to be understood to comprise other essential components as well. The typical practice of group teaching requires little or no interaction, since many times one person spends an entire session speaking, while others spend the entire session listening. We would not want to imply that there always has to be a dialog between the speaker and listeners. However, for a believer to mature as a disciple (apprentice), he must be
given opportunities to express and discuss unique needs and understanding. In other words, discipleship needs to be redefined to include the idea of "spiritual parenting", "spiritual tutoring" or "spiritual mentoring". The apostle Paul's example of Biblical discipleship, as described in Lesson 2-2, should be compared with the current typical pattern of church practice.

2. There is an attempt to develop "teachers" rather than "disciplers" – A by-product of the common misconception of how to define Biblical Discipleship (point 1. above) is a tendency to focus special attention on believers who seem to have a "gift" for teaching. Since teaching is a gift of the Spirit*, we must conclude that most believers will not have the gift of teaching. But "discipling" is not a gift. Therefore, while we should only expect a few believers to become teachers, almost all believers should be seen as potential disciplers. If asked, very few believers would say their gift is teaching. Let's be liberal and say that 10% of believers are gifted in teaching. Then how are the other 90% supposed to minister? Many believers if asked would respond by saying their gift is to "serve", which can mean anything from serving meals at a homeless shelter to painting a widow's house to innumerable other means of "serving". By no means do we want to imply that these "services" are not good things. Hopefully it will be seen that we need to redefine "discipleship". God designed a system of multiplication whereby humans have
populated the earth. We think it is sad and unusual if a married couple is incapable of having children, yet there is little surprise in most churches when typical believers are not parenting spiritual children (making disciples). *Rom. 12:4-8, 1 Cor. 12:28-29, James 3:1

3. To influence many people simultaneously is generally considered the method of choice. Personal one-on-one discipleship appears to be too time-consuming, energy consuming, and inefficient – The concept we want to demonstrate is that the Biblical method of multiplication is much more productive over the long term. This is very important, because the seeming short-term ineffectiveness has led many to the illusion that it really is not the best method. To be honest, many Christian leaders measure success by numbers. We believe this is one of the reasons there is such an emphasis in the Christian community to hold events and activities, which give the impression of short-term success if attendance is the measure.

Church Growth through Spiritual Multiplication (rather than "addition")
Number of "CONVERTS"
(1 converted each day)
Number of "DISCIPLES"
(1 discipled each 6 months)
1 To start 1
183 ½ year 2
365 1 year 4
548 1½ years 8
730 2 years 16
913 2½ years 32
1,095 3 years 64
1,278 3½ years 128
1,460 4 years 256
1,643 4½ years 512
1,825 5 years 1,024
2,190 6 years 4,096
2,555 7 years 16,384
2,920 8 years 65,536
3,285 9 years 262,144
3,650 10 years 1,048,576
4,015 11 years 4,194,304
4,380 12 years 16,777,216
The figures in the left-hand column represent the number of converts that could be attained to if a Christian were able to win one person to Christ each and every day of the year. The figures in the right-hand column represent the number of fruitful disciples that could be attained to if each Christian would be faithful during each 6 month period to disciple just one other new convert to a level of spiritual maturity whereby the newer Christian could be used by the Lord to in turn disciple another convert. The figures in the right-hand column are less impressive at the beginning, but as can be seen, have a much greater long-term benefit. The things which you (Timothy) have heard from me (Paul) in the presence of many witnesses, entrust these to faithful men who will be able to teach others also. (2 Tim. 2:2)

4. Most believers consider themselves inadequately trained, or ungifted –
Leaders are presumed to be trained, but lack the time for personal discipleship; while many
followers have the time, but don't feel they're adequately trained. Leaders typically are perceived to be "trained", but don't feel they have the necessary Leaders time to devote to individuals. Followers usually have more time, Followers but don't feel they are adequately trained to meet the needs of new believers. And He gave some as apostles, and some as prophets, and some as evangelists, and some as pastors and teachers, for the equipping of the saints for the work of service, to the building up of the body of Christ; until we all attain to the unity of the faith, and of the knowledge of the Son of God, to a mature man, to the measure of the stature which belongs to the fullness of Christ. As a result, we are no longer to be children, tossed here and there by waves and carried about by every wind of doctrine, by the trickery of men, by craftiness in deceitful scheming; but speaking the truth in love, we are to grow up in all aspects into Him who is the head, even Christ, from whom the whole body, being fitted and held together by what every joint supplies, according to the proper working of each individual part, causes the growth of the body for the building up of itself in love. Ephesians 4:11-16


Last edited by Admin on Wed Aug 04, 2010 9:42 am; edited 1 time in total
5. The practice of mentoring, or spiritual parenting, is not being modeled by
many older believers – The typical newer believer will imitate older believers who they look up to, or with whom they associate. Thus every believer is a role model for other believers, even if they don't want to be.

6. "Personal discipleship" ("spiritual parenting") is not promoted and modeled by the leadership in many churches – In 1 Peter 5:1-3 leaders are told, "…, I exhort the elders among you, …, shepherd the flock of God among you, … nor yet as lording it over those allotted to your charge, but proving to be examples to the flock. Not just telling people what to do, but rather, showing them what to do. Can Christian leaders realistically expect followers to imitate what they themselves are not modeling (by example)?

7. There is an assumption by many that the appropriation of biblical knowledge by itself will lead to spiritual maturity. (This will be covered in greater detail in Lesson 2-2)

8. The church community typically focuses on making converts rather than making disciples – Jesus, in giving us the Great Commission (Matt. 28:19-20), said to go into all the world and make disciples, not just converts. This then brings up the need to distinguish between a "disciple" and a "non-disciple". We believe it is true to say that not all believers are disciples, from the Biblical standpoint. What then is a proper definition of the term "disciple"? We believe it will help us to consider a disciple to be an "apprentice". (See Luke 6:40) (See also Lesson 2-4)

9. Many believers are reluctant to make a commitment that they perceive may interfere with or limit their lifestyle or plans.

10. Biblical truth is often presented in isolated (topical) form without a good
understanding of how it fits into the Christian life as a whole, promoting the compartmentalization of the believer's life – Imagine that you're about to view a slide presentation of a "project", a "medical procedure", or someone's "vacation trip". You would normally expect such a presentation to begin with an "objective", or an "overview", and then proceed in a progressive and sequential manner. But what if the slides were accidentally spilled on the floor, and then put back into the trays in random order. The person doing the presentation would probably be able to explain each individual slide, but
would generally have difficulty trying to present a progressive picture. The more complicated the material, and the greater the unfamiliarity of the viewer, the more difficult it would be to try to make sense out of the presentation. Many times the Christian life is presented in a similar random order. Thus the newer believer will probably have a difficult time trying to fit the isolated pieces together in a sensible way. That is why we usually recommend that the discipleship process begin with a visual overview (see Lesson 1-1), followed by a progressive and systematic presentation of what will be encountered by the typical newer believer.
6.It depends upon the conviction of the Holy Spirit towards that person. Because if he really accepts Christ in his heart, he can not look unto man but to Christ his Savior.It says in the Bible(Matt.19:26)But Jesus beheld them, and said unto them, With men this is impossible; but with God all things are possible. And ther'es also quote which say's, "May nauunang nahuhuli at may nahuhuling nauuna." In english, (first but the least, and least but the first.
) For example,the story of "kuneho
at ang pagong"...
8.Disciple-a follower of a master or spiritual teacher,a person who lives by the teachings of his master and holds the standard and ideals set by his master.

judith




Posts

: 3


Join date

: 2010-08-17



---
Permissions in this forum:
You
cannot
reply to topics in this forum