DIFFERENT KINDS OF SPEECH
Noun
- is a word to name a person, place, things, state or quantity
Pronoun
- used in place of a noun
- a word substitute to a noun
Verb
- is a word that expresses actions or state of being; action words
Adjective
- modifies or describe a noun or pronoun
Preposition
- is a word that relates words in the sentence
Conjunction
- is a word that connects words, phrases and clauses
Interjection
- is a word that expresses sudden emotions

rhiza




Posts

: 78


Join date

: 2009-04-28



KINDS OF NOUN
1. Proper Noun – names of specific persons, animals, places or things which always begins with capital.
2. Common Noun – noun that do not refer to specific person, places, and animals.
3. Collective Noun – noun used for a group of people, places, animals or things.
E.g. Public team
Clergy
Pride of Baguio
Deck of cards
4. Abstract Nouns – nouns that refer to ideas, feelings, and intangible qualities.
E.g. Joy
Grief
Trinity
Humility
5. Concrete Nouns – nouns that refer to things that cannot be seen by eyes but felt or perceived by one or more senses.
E.g. aroma
Smell
6. Count Noun – nouns that refer to objects that can be counted.
7. Mass Noun – refer to things that can be measured but cannot be counted individually.
E.g. sand
Oil
Water

rhiza




Posts

: 78


Join date

: 2009-04-28



PARTS OF THE SENTENCE

I. Subject
– this is the topic of the sentence which could be a noun, a pronoun, or even an entire phrase or clause.
E.g. Teresa (walks)
The pen (writes)
II. Predicate
– word/s that tell/s something about the subject.
E.g. Maria (sleeps)
Exceptions: Imperative Sentence – a command sentence in an exception as it loses it subject.
E.g. Stand on your feet!
Run now!
Stand up.
Write this down.
Study your lessons.
a. Compound Subject
A sentence may have a compound subject – a simple subject consisting of more than one noun or pronoun.
E.g. Pastors, teachers, Christian workers and parents (joined) the play ceremony.
b. Compound Predicate
- predicate that includes more than one verb of action pertaining to the subject.
E.g. Maritone (went) to the church and (enjoyed) the service.

rhiza




Posts

: 78


Join date

: 2009-04-28



Usages on Cases of Nouns
1. Subject Noun - the noun that serves as the subject of the sentences
Dennis (catches) the ball.
2. Predicate Noun – a noun that names the subject of the sentence
Loren (is) a registered nurse.
3. The Objective Case of Noun – are nouns that serve as the case of the subject or the object, direct object or the object of preposition.
Pia (lends) her doll to Diane
DO (doll is direct object) Pia lends Diane
IO her doll (Diane here is the indirect object)
OP Barbie (found) her toy in the cabinet.
4. Possessive Case of Nouns – shows ownershi0p or possession of something.
Dave and Johny (met) at Max's restaurant.
Pastor Don (found) his bible in his neighbor's house
5. Objective Complement – a noun which tells the Direct object
- names the object of the sentence
Christians must love their neighbors as themselves.
SN AV DO OC
6. Nominative Address – now refers to a person spoken or addressed in a sentence.
Christians, love your neighbors.
7. Appositive Case – a noun is placed after another noun so as to identify it.
Mr. Smith, our friendly neighbor, left for Canada.
8. Infinitive Case – consists of an infinitive (verb beginning with "to") and its complements.
Teresita wants to watch TV.
SN AV IP
9. Participial Phrase – made up of a participle (a verbal form used as adjective)
Smiling proudly, the speaker left the lectern.
PP SN AV DO
Participle – verb that is used as an adjective.

rhiza




Posts

: 78


Join date

: 2009-04-28



PRONOUN
- is a word in place of a noun
Kinds of Pronouns
2. Relative Pronoun – used to relate or connect the clause introduced t other words in the sentence like who, which, that, whose and whom.
My friend who shares with my apartment shares with his rent.
3. Indefinite Pronoun – used to give indefinite reference to a person or things.
a. Singular Indefinite - several, few
Everybody –either
Everything – neither
Anybody – one
Nobody – no one
Somebody – each
Anything – anyone
Everyone
Someone
b. Plural Indefinite – both, few, several, many, are, none
4. Reflexive Pronoun – is used to refer to the subject and form by adding –self/selves to the personal pronoun
First myself – ourselves
Second yourself – yourselves
Third herself – themselves
himself
5. Reciprocal Pronoun – comes from the word reciprocate used to complete the interchange of action involves in the predicate.
Each other
One other
6. Demonstrative Pronoun – used to refer to specific person or thing in consideration of distance sometimes.
Those – That
These – This

rhiza




Posts

: 78


Join date

: 2009-04-28



VERB
- a word expressing action or condition or state of being and that is necessary to make statement.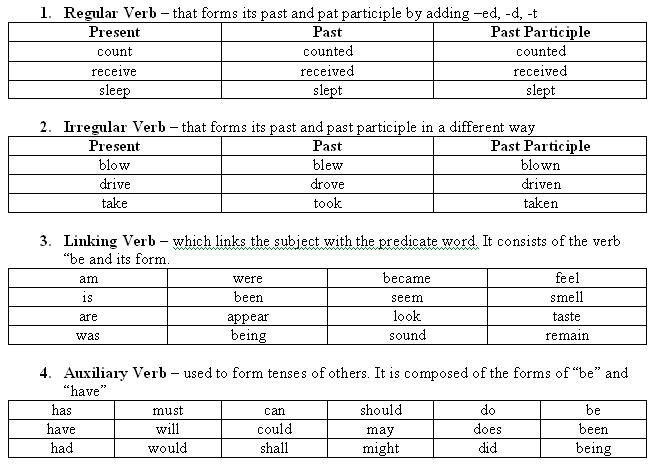 5. Transitive vs. Intransitive verb
a. Transitive – carries over the action from the subject to the object of the verb.
b. Intransitive Verb – does not carry the action over to an object or does not carry any object at all.
1) Indicative Mood – used in stating a fact or asking a question
Nagging is damaging to a marriage.
2) Subjunctive Mood – used to express a wish or possibility
The poor child wishes he was rich.
The sick man moved about as if he was in good health.
3) Imperative Mood – used to state a command or a request
Please excuse me by being late today.

rhiza




Posts

: 78


Join date

: 2009-04-28



ADJECTIVE
- modifies a noun or pronoun
Kinds of Adjective
a. Descriptive – describes or tells about quality of a person, place or thing.
1) Common Descriptive – magnificent
2) Proper Descriptive
b. Limiting Adjective – denotes quantity/number or limits in some way.
1) Numerical Adjective
10 books
12 days
1 month
2) Demonstrative Adjective
That those this
3) Interrogative Adjective
what when those which
4) Possessive Adjective
Mine your our
5) Indefinite Adjective
Few any several
6) Noun Modifier
Beauty car garbage
7) Articles
A an the
Compound Adjective
Golden wedding anniversary

rhiza




Posts

: 78


Join date

: 2009-04-28



ADVERB
- modifies a verb, adjective or adverb

Kinds of Adverb
1. Adverb of Manner – describes a word as to quality or character.
She lives her life happily.
2. Adverb of Frequency – expresses a customary or repeated action or condition.
I usually visit my relatives every summer.
He is sincerely doing his job.
3. Adverb of Place – indicates direction or where the action takes place.
The battered wife runs away.
4. Adverb of Time – indicates when the action of the verb takes place.
I shall meet my phone pal soon.
5. Adverb of Degree – indicates the extent or intensity of the verb.
He explained his report thoroughly.
6. Adverb of Reason – indicates the purpose why the action of the verb takes place.
Our new classmate seldom talks because he is shy.

rhiza




Posts

: 78


Join date

: 2009-04-28



CONJUNCTION
1. Coordinating Conjunction - joins words belonging to the same classification like noun to noun etc.
Anna came and helped me.
2. Correlative Conjunction – usually used in pair
Either – or
Neither – nor
The beggar could neither hear nor sea.
3. Subordinating Conjunction – used to introduce subordinate clauses, while.
The mother washed the dishes while the baby was asleep.
4. Conjunctive Adverb – used to connect or join main clauses, yet and but.
He tried hard to succeed yet he failed to achieve his goal.

rhiza




Posts

: 78


Join date

: 2009-04-28




rhiza




Posts

: 78


Join date

: 2009-04-28



---
Permissions in this forum:
You
cannot
reply to topics in this forum