LIFE OF CHRIST
101

Life of Christ
- Deals with the study of the life of Jesus Christ. It covers His pre-existence, virgin birth, early childhood, earthly ministry, death, resurrection, ascension, and second coming.


THE MINISTRY OF GOD THE FATHER IN THE LIFE OF CHRIST

1. The Father sent His Son (John 3: 16; 6:57; 8:16-18; 12:49; Galatians 4:4)
2. The Father sealed His Son (John 6:27)
3. The Father taught His Son (John 8:28 )
4. The Father anointed His Son (Luke 8:18 )
5. The Father honored His Son (John 8:54)
6. The Father commanded His Son ( John 10:18 )
7. The Father bore witness to His Son (John 8:18 )
8. The Father loved and loves His Son (John 10:17)
9. The Father delighted to His Son (Isaiah 42:; Matthew 3 :17; 17:5; 2 Peter 1:17)
10. The Father heard His Son ( Matthew 56:53; John 11:41,42; John 12:27,28 )
11. The Father offered up His Son ( John 3:16; 18 :11; Romans 8 :31; 1 John 4:9, 10)
12. The Father raised His Son ( Ephesians 1:20)
13. The Father exalted His Son ( Ephesians 1:20, Philippians 2:11)
14. The Father glorified His Son ( John 12:28 ; John 17:1)
15. The Father has made His Son head of the church (Ephesians 1:22)
16. The Father has committed judgment to His Son (John 5:22,27)

THE MINSITRY OF THE HOLY SPIRIT IN THE LIFE OF CHRIST

1. He was begotten by the Holy Spirit (Luke 1;35)
2. He was anointed by the Holy Spirit (Matthew 3:16; Hebrews 1:9)
3. Christ preached by the power of the Holy Spirit (Luke 4:18 )
4. He was sealed by the Holy Spirit (John 6:27)
5. He was led by the Holy Spirit (Matthew 1:1)
6. He worked miracles through the Holy Spirit (Matthew 12:28 ; Acts 10:38 )
7. He was filled by the Holy Spirit ( John 3:34; John 4:1)
8. He sorrowed in the Spirit (John 11:33)
9. Christ rejoiced on the Holy Spirit (Luke 10:21)
10. He offered up Himself through the Holy Spirit (Hebrews 9:14)
11. He was raised from the dead (Romans 1:14; 1 Peter 3:12)
12. He commanded His Apostles through the Holy Spirit)

THE 24 MOST IMPORTANT EVENTS IN THE LIFE OF CHRIST
1. His birth (Luke 2:1-7)
2. The adoration by the shepherds (Luke 2:8:20)
3. The dedication in Jerusalem (:Luke 2:21-38 )
4. The worship by the wise men (Matthew 2:1-12)
5. Flight in Egypt (Matthew 2:13-23)
6. Temple visit at 12 (Luke 2:41-50)
7. His baptism (Matthew 3:13-17)
8. His temptation ( Matthew 4:1-11)
9. Introduction by John the Baptist (John 1:29)
10. First temple cleansing ( John 2:13-25)
11. Conversion of Necudemus (John 34:21)
12. The choice of the 12 (Matthew 10:1-4)
13. Imprisonment and execution of John (Matthew 14:1-12)
14. Peter's great confession (Matthew 16:13-20)
15. The transfiguration (Matthew 17:1-13)
16. His triumphal entry ( Matthew 21:1-11)
17. Weeping over Jerusalem (Matthew 33:27,39; Luke 19:41)
18. In the upper room (John 13:14)
19. In Gethsemane (John 18:1-11)
20. His arrest and trials (John 18:12-19:15)
21. The crucifixion (John 19:!6-18 )
22. The resurrection (Matthew 28:1-7)
23. The 10 Appearances
24. The Ascension (Luke 24:51)

THE FOURFOLD GOSPEL ACCOUNT
MATTHEW MARK LUKE JOHN
1.Portrait of Christ King and Lion-like Servant and Ox-like Man and Man-like Mighty God and Eagle-like
2. Angelic Reminder 1st Creature 2nd Creature 3rd Creature 4th Creature
3. Style of Writer Teacher Preacher Historian Theologian
4. Emphasis by the writer His sermons His miracles His parables His doctrines
5. Culture of original readers Jews Romans Greeks World
6. Genealogical record Yes; 1:1-17 None Yes; Luke 13:23
7. Reason A King must have one A servant doesn't need one A perfect man should have one

RayMart




Posts

: 111


Join date

: 2009-04-25


Age

: 31


Location

: Baguio City, Philippines 2600



JOHN THE BAPTIST

o His Office – A Nazarite and a witness to earth's true light, Jesus Christ John 1: 6-18
o His clothes and food – made of camel's hair and leather, locusts and honey Matthew 3 &4
o His message – is predicted by both Isaiah and prophet Malachi Isaiah 46:5; Malachi 3:1
His sermons to:
a) The Crowds Matthew 3: 2-6; Luke 3:3-6
b) To the Pharisees Matthew 3:7-10
c) The Publicans Luke 3: 13
d) The Soldiers Luke 3:14
e) To the World John 1:29
o His Testimony
1. That he was not the Christ John 1: 20
2. That he was not Elijah or Moses Matthew 4:5; Deuteronomy 18: 15-18
3. that he was simply a voice in the wilderness John 1:23
4. He was unworthy to unloose the shoe latchet of the Messiah John 1:27
5. He was only a friend of the Bridegroom John 23:29
6. He must decrease but Christ must increase John 3:30
o His Twofold Prediction
1. John 3:34, 35 – that the Messiah would enjoy the ministry of the spirit and love of the Father in an unprecedented manner.
2. Luke 3:16; Acts 2 & Revelations 6 – that the Messiah would someday baptize believers with the Holy Spirit at the Pentecost and unbelievers with fire during the tribulation.
o His Reassurance and Tribute for Christ
1. Reassurance – that Christ was indeed the Messiah Matthew 11:2-6
2. Tribute – there was no greater man than John Matthew 11:7-11
o His Martyrdom for Christ

RayMart




Posts

: 111


Join date

: 2009-04-25


Age

: 31


Location

: Baguio City, Philippines 2600



THE BIRTH AND EARLY YEARS OF CHRIST
I. The Two (2) Prefaces
A. Luke 's Preface (Luke 1: 1- 4)
B. John's Preface (John 1:1- 5)
 Christ was with the Father in the eternity past. Proverbs 8: 22- 31; John 17: 5, 24
 Jesus Christ creator of all things. Col. 1:16, 17; Eph. 3: 9; Heb. 1:2
 Jesus Christ is both light and the life of men. John 5: 16; 1 John 5: 11; John 8: 12; 9:5; 12: 35, 46
II. The Three Annunciations
A. To Zacharias concerning John's birth (Luke 1: 5, 25)
B. To Mary mother of Jesus concerning Jesus' birth (Luke 1: 26- 38
C. To Joseph concerning Mary's purity (Matt. 1:18- 25)
III. The Three Songs of Faith
A. Praise of Elizabeth to Mary (Luke 1: 39- 45)
B. Praise of Mary to God (Luke 1: 46- 56)
C. Praise of Zacharias to God (Luke 1: 57- 79)
IV. The First Thirty (30) Years of Glory to Glory Story
A. From Glory to Bethlehem (Luke 2: 1- 21) ……… BIRTH
B. From Bethlehem to Jerusalem (Luke 2: 22- 38) ……… DEDICATION
C. From Jerusalem back to Bethlehem (Matt. 2: 1- 12) ……… VISIT OF MAGI
D. Form Bethlehem to Egypt (Matt. 2: 13- 18) ……… ESCAPE TRIP
E. From Egypt to Nazareth (Matt. 2: 19- 23; Luke 2: 40) ………BOYHOOD DAYS
F. Form Nazareth to Jerusalem (Luke 2: 41- 50) …… TEMPLE QUIZ
G. From Jerusalem back to Nazareth (Luke 2: 51, 52) ………PREPARATION YEARS


♪ ♫ HIS 72 STEPS FROM GLORY TO GLORY ♫ ♪

Step 1 – From Glory to Bethlehem Luke 2: 1- 21

OT Prophecy fulfilled: That Christ would be born in Bethlehem Micah 5: 2; ff. Luke 2: 4- 6

Six Questions
1. Why did Angel Gabriel rebuke Zacharias?
2. Why Joseph and Mary waited so long before returning to Bethlehem?
3. Why Joseph and Mary didn't stay with their relatives?
4. Why did Jesus Christ born in the manger?
5. Why did the angels appear to the shepherds first?
6. Why did God used the angels?

Step 2 – From Bethlehem to Jerusalem Luke 2: 22- 38

1. Jesus is brought to the temple to be dedicated to the Lord

The Prophecies of Simeon Regarding Christ
a. He will e alike the Gentile
b. He will be the glory of Israel
c. He will be the cause of fall and use of many in Israel (1 Cor. 1: 23; 2: 16; 2 Peter 2: 7)
d. His sufferings to accomplish all this will be as a sword in Mary's Soul

Step 3 – From Jerusalem to Nazareth Luke 2: 9
They went home.

Step 4 – From Nazareth to Bethlehem Matt. 2: 1- 12
The wise men visited the babe. Their gifts:
1. Gold – Christ's Deity
2. Frankincense – Christ Humanity
3. Myrrh – Future suffering
OT Testament Fulfillment: That He would be worshipped by wise men and be presented with gifts (Psalm 72: 10; Isaiah 60: 3, 6, 9; ff. Matt. 2: 11)

God warned them through a dream that they would not return to Herod.
Step 5 – From Bethlehem to Egypt Matt. 2: 13- 18
OT Testament Fulfillment: Christ would be in Egypt for a season (Num. 24: 8; Hosea 11: 1; ff. Matt. 2: 15
That His birth place would suffer a massacre of infants (Jer. 31: 15; ff. Matt. 20: 18)

Step 6 – From Egypt to Nazareth Matt. 2: 19 – 23; ff. Luke 2: 40
OT Testament Fulfillment: That he will be called a Nazarene (Isaiah 11: 1; ff. Matt. 2: 23)

Step 7 – From Nazareth to Jerusalem Luke 2: 41- 50
1. Jesus attends the first recorded Passover (Isaiah 11: 1- 4; 49: 1, 2; 50: 4)

Step 8 – From Nazareth to Bethabara on the Jordan River
1. Jesus is baptized by John the Baptist
Reasons for the baptism of Jesus Christ:
 To be identified with the three (3) OT offices and anointing.
Offices: a) As a prophet – oil only
b) As a priest – oil, water, and blood
c) King – oil only
Anointing: a) water Lev. 8: 6
b) Oil Lev. 8: 12
c) Blood Lev. 8: 23
 To identify with the message of John (John 1: 31- 34)
 To identify with Israel (John 1: 11)
 To identify with sinners (Isa. 53: 12); 2 Cor. 5 :12)
2. the Trinity in the Baptism of Christ
 Christ is anointed by the Holy Spirit (Matt. 3:17)
 Christ is approved by the Father (Matt. 3: 17)

Step 10 – From Bethabara to Temptation Wilderness
Step 11 – From Temptation Wilderness to Bethabara
Step 12 – From Bethabara to Bethsaida John 1: 43- 51

Prediction: Concerneng Christ's Ascension John 1: 50 -51

Step 13 – From Bethsaide to Cana John 2:1-11
Jesus, Mary and His disciples attend a wedding in Cana Hebrews 5:9

First miracle: Changing water into wine John 2:7-9

Step 14 – From Cana to Capernaum John 2:12
This is soon to become his home city

Step 15 – From Capernaum to Jerusalem John 2:13-3:21
Jesus attends the Passover and visits the temple.
He performs His first temple cleansing as He drives the materialistic money changers out.

Old Testament Prophecy Fulfillment: That He would be zealous for the Father.
(Psalm 64:12, 119:139 first fulfillment – John 2:13-17)

Prediction: Concerning Hid death and resurrection
(John 3:1-21, 1 Corinthians 3:16, 6:19, 2 Corinthians 6:16)

Prediction: Concerning is death (John 3:14)

Step 16 – From Jerusalem to the Jordan River John 3:22-36
Jesus was baptized in the Jordan River
John the Baptist gives a faithful witness –about Jesus to His own disciples.
Questions:
1. Why did He come by night?
2. What did Necudemus know about Jesus (Jn. 3:2, 20:30,31)
3. What did Jesus mean by His expressions "Except a man be born of water and by the Spirit, he cannot enter into the Kingdom of God"? (Jn. 3:5)
4. Didi Necudemus accept Christ? (Jn. 7:50)

Step 17 – From Jordan River to Sychar in Samaria
Matt. 4:12; Luke 3:19, 20, Jn. 4:1-42
A. John the Baptist is placed in prison denouncing Herod's unlawful marriage (Matt. 4:12; Luke 3:19, 20; Mrk 1:14)
B. Jesus depats in Judea
C. Jesus wins over an immortal Samaritan woman route. (Jn. 4:4-42)
D. This passages contains one of the greatest examples for soul winners in the entire.

Step 18 - From Sichar to Cana John 4:43-54
A. Jesus enters Galilee
B. He is approached by a Nobleman from Capernaum who desires to heal his dying son.

Miracle: Healing the nobleman's son.

Step 19 – From Cana to Nazareth Luke 14:16-30

A. Jesus asked to read the scripture in His hometown Synagogue
B. He takes His text fro Isaiah 61:1, 2

Sermon: From Isaiah 61 in Nazareth

C. Jesus then identifies Himself as the Promised Messiah in Isaiah 61.

Old Testament Prophecy Fulfillment: That He would be filled even God's Spirit (Compare Isa. 11:2, 61:2; Ps. 45 with Luke 4:18, 19)

Arianne Karel




Posts

: 10


Join date

: 2009-04-28


Age

: 31


Location

: Baguio City, Philippines 2600




Arianne Karel




Posts

: 10


Join date

: 2009-04-28


Age

: 31


Location

: Baguio City, Philippines 2600



Six anointing of the Holy Spirit
1. He would preach the gospel to the poor.
2. He would heal the broken hearted.
3. he would preach deliverance to the captives.
4. He would restore sight to the blind.
5. He would set the bruised at liberty.
6. He would proclaim the acceptable year of the Lord.

D. He refers to Elijah and Naaman in an attempt to convict His hometown people of their unbelief.
E. The Jews are filled with wrath at all this and actually attempt to murder Him but He passing through the midst of them went His way. (Lk. 4:30)

Step 20 - From Nazareth to Capernaum
Matt. 4:13-22, 8:14-17, Mark 1:14-38; Luke 4:31-42)
A. Jesus now begins to emphasize the kingdom of heaven and the doctrine of repentance in His ministry (Matt. 4:17; Mark 1:14, 15)
B. He makes Capernaum is preaching headquarters. (Matt. 4:13)

Old Testament Prophecy Fulfillment: That He would be a light to the Gentiles (compare Isa. 9:1, 2; 42:1-3,6 7; 60:1-3 with Matt. 4:13-16 and Acts 13:47)

C. He calls into full time service, peter, Andrew, James and John as they cast their nets into the Galilean Sea.
1. His request (Matt. 4:19)
2. Their response (Matt. 4:20)

Miracle: Healing of the Capernaum demoniac (Mark 1:25; Luke 4:35)
1. The demon (Mark 1:24)
2. The Savior (Mark 1:25)
3. The crowd (Mark 1:27)

Miracle:
Healing of Peter's mother (Matt. 8:15; Mark 1:31; Luke 4:39)

D. He healed many that day by laying His hands on them (Luke 4:40, 41; Mark 1:32-34; Matt. 18:16, 17)

Old Testament prophecy Fulfillment: That He would heal many (compare Isa. 53:4 with Matt. 8:16, 17)

Prayer: On the eve of His first Galilean preaching tour (Mark 1:35; Luke 4;42)

Arianne Karel




Posts

: 10


Join date

: 2009-04-28


Age

: 31


Location

: Baguio City, Philippines 2600



Step 21 – From Capernaum to His first preaching tour of Galilee
(Matt. 4:23, 8:2-4; Mark 1:39-45; Luke 4:43-5:16)
A. he begins this tour by speaking to a crowd from Peter's boat

Miracle: Catching a great number of fish (Luke 5:5, 6)

Miracle: Healing a leper (Matt. 3:3; Mark 1:41)

Jesus heals many during His tour (Matt. 23)

Prayer: After healing a leper (Luke 5:16)

Step 22 – From first Galilean preaching tour to Capernaum
Matt. 9:2-9; Mark 2:1-14, 5:17-28

Miracle: Healing a paralytic (Matt. 9:2, 6, 7; Mark 2:5,10-12; Luke 5:20,24, 25)

Jesus calls Matthew (Levi) a His disciple. (Matt. 9:9; Mark 2:13, 14; Luke 5:27, 28)
END OF THE FIRST YEAR

Arianne Karel




Posts

: 10


Join date

: 2009-04-28


Age

: 31


Location

: Baguio City, Philippines 2600



Step 23 – From Capernaum to a Galilean grain field
Matt. 12:9-14; Mark 3:1-6; Luke 6:6-11
Step 24 - From Galilean grain field to a Galilean Synagogue
Miracle: Healing a withered hand (Matt. 12:13; Mark 3:5; Luke 6:10)
The Pharisees are consumed with fury to the point of madness at His action and consult how they might kill Him.
Step 25 – From Galilean Synagogue to Mount Tabor (?)
Matt. 5:1-7, 4:24, 25, 10:2-4; Mark 1:2, 3:7-19; Luke 6:12-49
A. He heals many along the road (Mark 3:7-12)
B. The evil spirits acknowledge Him as the Son of God when He casts them out
(Mark 3:11)
C. He continues to fulfill the prophecy of Isaiah.
Old Testament Prophecy Fulfillment That He would deal gently with the Gentiles (compare Isa. 9: 1, 242:1-3 with Matt. 12:17-21, 4:13-16)
Prayer – Before choosing His 12 apostles (Luke 6:12)
D. After a night in prayer for guidance, our Lord chooses His 12 disciple band.
1. Simon Peter
2. Andrew
3. James son of Zebedee
4. John
5. Philip
6. Bartholomew
7. Thomas
8. Matthew
9. James son of Alphaeus
10. Judas (Theddeous)
11. Simon the zealot
12. Judas Iscariot
Sermon: On the characteristics of the kingdom (Matt. 5-7; Luke 6:20-49, 12:22-31, 57- 59, 16:17)
1. He should be lowly in Spirit knowing God has promised him a kingdom
2. He should mourn and weep is necessary knowing.
3. He should be meek for in the future he is to inherit the earth.
4. He should hunger and thirst after righteousness and will then be satisfied.
5. He should be merciful that He might Himself obtain mercy.
6. He should be pure in heart realizing he shall see God.
7. he should be a peace-maker in order to be called a son of God.
8. He should rejoice in persecutions knowing his reward will be great.
9. he is to be the salt of the earth and the light of the world.
10. His righteousness is too far surpassing that of the scribes and Pharisees.
11. He should not become unduly angry with his brother but should constantly seek reconciliation.
12. He shall not desire his brother's wife.
13. He shall give proper honor to his own wife.
14. His eyes and no answers can be taken literally and trusted completely.
15. He is to love those who hate him and pray for those who curse him.
16. He is to be compassionate.
17. He is to work his works, fast his fasts, and pray hid prayers in secret.
18. His prayer life should include the following elements:
a. Personal relationship with God
b. Faith (Heb. 11:6)
c. Worship (1 Chronicles 23:5, 25:1, 7; Rev. 4:8; Jn. 4:23, 24)
d. Expectation (Isa. 2:2-4, 25:8, 25:1, 65:20, 25, Rev. 20:1-6)
e. Submission (Matt. 26:39)
f. Petition
g. Confession (1 Jn. 1:9)
h. Compassion (Matt. 18:21-35, 1 jn. 4:20)
i. Dependence (1 Cor. 10:12)
j. Acknowledgement (1 Chron. 29:10-19)
19. He will lay up treasure in heaven and prefers God to gold on earth.
20. He will ever seek God's kingdom and his righteousness.
21. He will trust God to feed, lead, and clothe him.
22. He will never critically judge nor condemn his brother.
23. He will be careful in discussing holy things before deprave man.
24. he will ask, seek and knock at the door of his father believing he will receive fined and gained entrance.
25. he will always do for others that which he would have them to do for him.
26. He will beware of false teachers, identifying them by their corrupt fruit.
Prediction: Concerning the great white throne judgment.
Parable: Two houses in a hurricane. (Matt. 7:24-27)
E. Jesus finishes His sermon and the crowds are amazed at His teaching, authority and crystal illustrations.
Step 26: - From mount Tabor (?) to Capernaum
Matt. 8:1, 5-13; Luke 7:1-10
Miracle: Healing a centurion's servant (Matt. 8:13; Luke 7:10)
A. He is amazed at the amount of faith shown by His Gentile official.
B. He is saddened at the fact that many such Gentiles will someday fellowship with Abraham in heaven while many Jews will be cast into hell.
Step 27 – From Capernaum to Nain Luke 7:11-17, 36-50
Miracle: Raising a widow's son (Luke 7:14)
Parable: Forgiving the fifty and the five hundred. (Luke 7:41, 42)
Step 28 – From Nain to the Second Galilean Preaching tour.
Matt. 12:46-50, 13:1-52; Mark 3:19-35, 4:1-34; Luke 8:1-21, 12:10, 13:18-21
A. He is accompanied on this tour by His disciples plus some older and godly woman such as Mary Magdalene, Joana and a woman named Suzanna (Luke 8:1-3)
B. He is accused by insanity and become a source of embarrassment to his kinfolk (Mark 3:21)
Parable: Subduing a strong man (Mark 3:22-30)
C. He is told his brothers and mother are waiting to see Him and uses this opportunity to explain that anyone hearing and obeying God's word is His brother, sister and mother (Mark 3:31-35, Matt. 12:46-50; Luke 8:19-21)
Sermon: On the examples of the kingdom (Matt. 13:1-52; Mark 4:1-334; Luke 4:4-18, 13:18-21)
Parable: The sower, the seed and the soil (Matt. 13:1-9, 18-23; Mark 4:1-20;
Luke 8:4-15)
D. At this point in His ministry our Lord privately explains to His disciples His reason for telling parables. It was to reveal spiritual truths to the sincere but to hide them from the skeptical. (Matt. 13:10-17; Mark 4:10-12; Luke 8:9, 10)
Parable: Satan stares in the Savior's filed (Matt. 13:24-30, 36-43)
Parable: From scattering to seeking (Mark 4:26-29)
Parable: The mighty mustard seed (Mark 13:31, 32; Luke 13:18, 19)
Parable: The cook's leaven and the kingdom of heaven (Matt. 13:33; Luke 13:20, 21)
Parable: Finding a fortune into a field (Matt. 13:44)
Parable: The price of a pearl (Matt. 13:45, 46)
Parable: Sorting out a sea catch (Matt. 13:47-50)
Parable A trained man and his treasure (Matt. 13:52)
Old Testament Prophecy Fulfillment: That he would speak in parables (Isa. 6:9, 10; matt. 13: 10-15)
Step 29 – From the second Galilean preaching tour to the country of the Gerasenes
Matt. 8:18, 23-34; Mark 4:35-5:20; Luke 8:22-39)
Miracle: Calming the stormy sea (Matt. 8:26; Mark 4:39; Luke 8:24)
Miracle: Healing the Gerasene demoniac (Matt. 8:22; Mark 5:8; Luke 8:33)
Step 30 – From Gerasenes to Capernaum
Matt. 9:1, 10-14, 11:2-19; Mark 2:15-22, 5:21-43
A. Levi (Matthew) hold a banquet for Jesus and invite some unsaved friends. (Matt. 9:11-15; Mark 2:15-20; Luke 5:29-35)
Parable: A rent cloth and a ruptured container (Matt. 9:16, 17; Mark 2:21, 22;
Luke 5:26-29)
Miracle: Healing a woman with internal bleeding (Matt. 9:22; Mark 5:29; Luke 8:44)
Miracle: Raising Jairus' daughter (Matt. 9:25; Mark 5:41; Luke 8:54)
Miracle: Healing a blind man (Matt. 9:29)
Miracle: Healing a dumb demoniac (Matt. 9:33)
B. He answers the doubts of the imprisoned John by healing many (Matt. 11:2-6; Luke 7:18-23)
Sermon: On John the Baptist (Matt. 11:7-15; Luke 7:24-30)
1. John was not a reed tossed about by the wind, but was a rough and ready preacher.
2. John was the greatest of all prophets.
3. John was heard gladly by the common folk and sinners but was disregarded bu the ungodly Jewish rulers.
4. John's fearless ministry marked the beginning of Satanic opposition to the kingdom.
5. John came in the spirit of the Old Testament Elijah.
Parable: A generation of gripers (Matt. 11:16-19; Luke 7:31-25)
Step 31 – From Capernaum to Jerusalem (Jn. 5:1-47)
Miracle: Healing of a 38-year old invalid (Jn. 5:8 )
Sermon: On judgment and resurrection (Jn. 5:19-47)
1. Jesus says that the Father loves Him and instructs Him in His actions.
2. He claims the father has given over all judgment to Him and desires that men honor the son as they do the father.
3. He assures them that they will someday be raised from the dead by the Son.
4. He promises everlasting life to all who will believe this.
5. He points out that His deity is attested to at least 4 fruitful witnesses:
a. John the Baptist
b. His own miracles (17 up to this time)
c. The Father himself (at His baptism)
d. The Old Testament (especially the writings of Moses)
6. He sadly observes that in spite of all this, most of Israel will not accept Him.
Prediction: On the future resurrection (Jn. 5:28, 29)
1. The just will be resurrected for eternal bliss.
2. The unjust will be resurrected for eternal damnation.
(M
Step 32 – From Jerusalem to Nazareth (Second Visit)
Matthew 13:53-58; Mark 6:1-6)
NAMES FOR CHRIST IN THE GOSPEL
B
1. Babe
2. Bread
3. Bridegroom
C
1. Child
2. Christ
3. Consolation
4. Corner stone
D
1. Day spring
2. Door
E
1. Emmanuel
F
1. Friend of sinners
G
1. God
2. Governor
3. Gift
H
1. Holy one of God
2. Heir
I
1. I am the Bread of Life
2. I am the Light of the World
3. I am the Door
4. I am the Good Shepherd
5. I am the Resurrection
6. I am the Way, the Truth and the Life
7. I am the True Vine
J
1. Jesus
K
1. King of Jews
2. King of Israel
L
1. Lamb
2. Lord
M
1. Man
2. Master
3. Messiah
N
1. Nazarene
O
1. Only begotten
P
1. Prophet
2. Physician
R
1. Rabbi
S
1. Shepherd
2. Savior
3. Son of God
4. Son of Man
5. Son of David
6. Son of Abraham
7. Son of Joseph
W
1. Word
Last edited by Arianne Karel on Fri Jun 19, 2009 5:25 pm; edited 1 time in total

Arianne Karel




Posts

: 10


Join date

: 2009-04-28


Age

: 31


Location

: Baguio City, Philippines 2600




Arianne Karel




Posts

: 10


Join date

: 2009-04-28


Age

: 31


Location

: Baguio City, Philippines 2600



PRAYERS OF THE SAVIOR
1. At His Baptism (Luke 3:21)
2. Before His first preaching tour of Galilee (Mark 1:45; Luke 4:42)
3. After healing a leper (Luke 5:16)
4. Before choosing the twelve disciples (Luke 6:12)
5. After feeding the 5, 000 (Matthew 14:23; Mark 6:46; John 6:15)
6. Before hearing Peter's great confession (Luke 9:18)
7. During His transfiguration (Luke 9:28, 29)
8. Upon the hearing of the report of the returning 70 (Matthew 11:25-27; Luke 10:21, 22)
9. After visiting Mary and Martha (Luke 11:1)
10. After receiving some small children (Matthew 19:13-15; Mark 10:13-16; Luke 18:15-17)
11. before raising Lazarus (John 11:41, 42)
12. When some Greeks desired to see Him (John 12:27, 28)
13. After leaving the upper room (John 17:1-26)
14. In the garden – first prayer (Mark 26:39; 14:33, 36; Luke 22: 41, 42)
15. In the garden – second prayer (Matthew 26:42; Mark 14:39; Luke 22:44)
16. In the garden – third prayer (Matthew 26:44)
17. On the cross – first prayer (Luke 23:34)
18. On the cross – second prayer (Matthew 27:46-47)
19. On the cross – third prayer (Luke 23:46)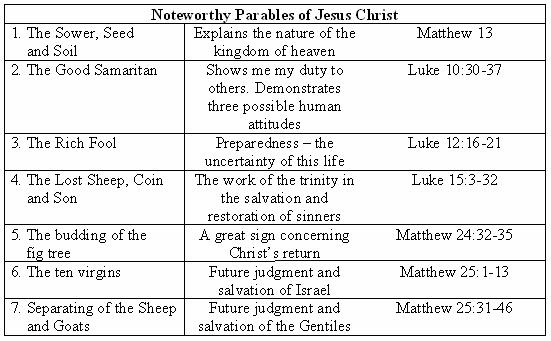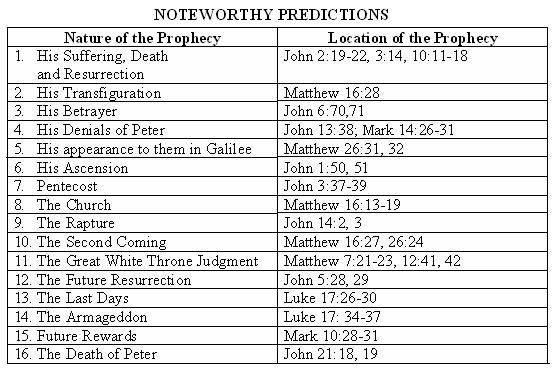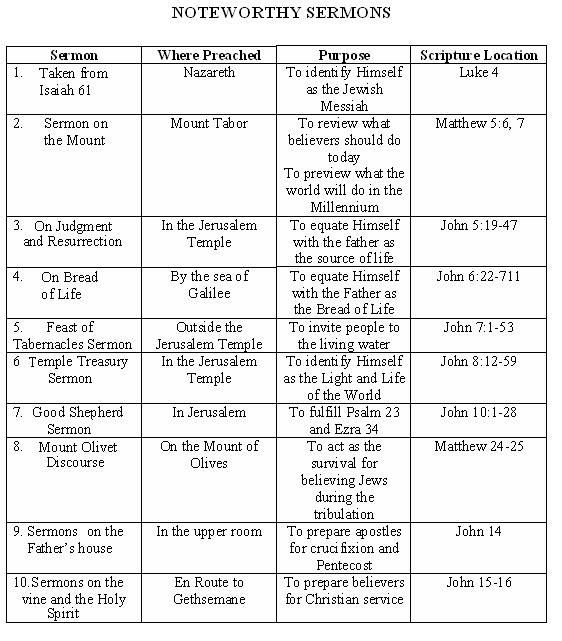 Arianne Karel




Posts

: 10


Join date

: 2009-04-28


Age

: 31


Location

: Baguio City, Philippines 2600



---
Permissions in this forum:
You
cannot
reply to topics in this forum