"By faith we understand that the universe was formed at God's command, so that what is seen was not made out of what was visible." —Hebrews 11:3

Why Was Biology 101 Made?
We wanted to give our students a firm grasp of the world of biology from a Biblical perspective. We firmly believe that biology, in particular, is a discipline that needs to be understood in connection with a Christian world view. Biology is the study of life and includes who we are and where we came from. If you get the foundation wrong, the rest of the building will suffer as a result. We wanted our students to see the big picture so they would have a context in which to place all the details they learn.

Our highest goal for our students is to love God. We also want them to enjoy the process of learning about God's world. We decided to devote ourselves to the task of creating a rich and exciting Biology program of study that was Biblically-based, challenging, and filled with fascinating information.
What is biology?
Simply put, it is the study of life -- life in all of its grandeur. From the very small algae to the very large elephant, life has a certain wonder about it. With that in mind, how do we know if something is living? Is a virus alive or dead? What are the characteristics of life? These are all very important questions with equally important answers.
Characteristics of Life
Living things include both the visible world of animals and plants, as well as the invisible world of bacteria. On a basic level, we can say that life is ordered. Organisms have an enormously complex organization. We're all familiar with the intricate systems of the basic unit of life, the cell.
Life can also "work." No, not the daily employment variety, but living creatures can take in energy from the environment. This energy, in the form of food, is transformed to maintain metabolic processes and for survival.
Life grows and develops. This means more than just getting larger in size. Living organisms also have the ability to rebuild and repair themselves when injured.
Life can reproduce. Have you ever seen dirt reproduce? I don't think so. Life can only come from other living creatures.
Life can respond. Think about the last time you accidentally stubbed your toe. Almost instantly, you flinched back in pain. Life is characterized by this response to stimuli.
Finally, life can adapt and respond to the demands placed on it by the environment. There are three basic types of adaptations that can occur in higher organisms.
Reversible changes occur as a response to changes in the environment. Let's say you live near sea level and you travel to a mountainous area. You may begin to experience difficulty breathing and an increase in heart rate as a result of the change in altitude. These symptoms go away when you go back down to sea level.
Somatic changes occur as a result of prolonged changes in the environment. Using the previous example, if you were to stay in the mountainous area for a long time, you would notice that your heart rate would begin to slow down and you would begin to breath normally. Somatic changes are also reversible.
The final type of adaptation is called genotypic (caused by mutation). These changes take place within the genetic makeup of the organism and are not reversible. An example would be the development of resistance to pesticides by insects and spiders.
In summary, life is organized, "works," grows, reproduces, responds to stimuli and adapts. These characteristics form the basis of the study of biology.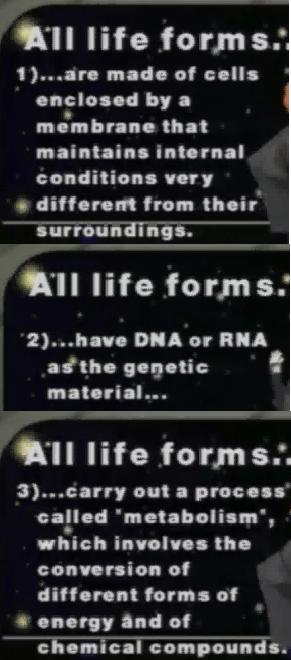 Last edited by Admin on Tue Apr 28, 2009 9:52 pm; edited 1 time in total
Basic Principles of Biology

The foundation of biology as it exists today is based on five basic principles. They are the cell theory, gene theory, evolution, homeostasis, and laws of thermodynamics.
Cell Theory: all living organisms are composed of cells. The cell is the basic unit of life.

Gene Theory: traits are inherited through gene transmission. Genes are located on chromosomes and consist of DNA.

Evolution: any genetic change in a population that is inherited over several generations. These changes may be small or large, noticeable or not so noticeable.

Homeostasis: ability to maintain a constant internal environment in response to environmental changes.

Thermodynamics: energy is constant and energy transformation is not completely efficient.
Subdiciplines of Biology

The field of biology is very broad in scope and can be divided into several disciplines. In the most general sense, these disciplines are categorized based on the type of organism studied. For example, zoology deals with animal studies, botany deals with plant studies, and microbiology is the study of microorganisms. These fields of study can be broken down further into several specialized sub-disciplines. Some of which include anatomy, cell biology, genetics, and physiology.
Definition: The Cell Theory is one of the basic principles of biology. Credit for the formulation of this theory is given to german scientists Theodor Schwann, Matthias Schleiden, and Rudolph Virchow.

The Cell Theory states:
All living organisms are composed of cells. They may be unicellular or multicellular.

The cell is the basic unit of life.

Cells arise from pre-existing cells.
The modern version of the Cell Theory includes the ideas that:
Energy flow occurs within cells.

Heredity information (DNA) is passed on from cell to cell.

All cells have the same basic chemical composition.

The Pyramid Of Life
Hierarchical Structure of Life
By Regina Bailey, About.com

When you look at a pyramid, you'll notice that its broad base gradually narrows as it extends upward. The same holds true for the organization of life on Earth.

At the base of this hierarchical structure, is the most inclusive level of organization, such as an ecosystem. As you climb the pyramid, the levels become less encompassing and more specific. Let's take a look at this magnificent pyramid, starting with the ecosystem at the base and culminating with the atom at the peak.

Ecosystem

Our tour begins with the ecosystem. Ecosystems involve interactions between communities and their environment. Communities consist of different populations (groups of organisms of the same species) in a given geographic area. The environment includes everything from people to plants.

Organism

The next stop is the organism. Yes, that's right, that means you! Living organisms are highly ordered and have the ability to grow, develop, and reproduce. Complex organisms, including humans, rely on the cooperation between organs, tissues, cells, and molecules to exist.

Organ Systems

Moving right along, we come to our next level--organ systems. Some examples are the circulatory, digestive, nervous, skeletal, and reproductive systems which work together to keep the body functioning normally. For instance, nutrients obtained by the digestive system are distributed throughout the body by the circulatory system. Likewise, the circulatory system distributes oxygen that is taken in by the respiratory system.

Organs

Climbing higher still, we arrive at the organs: i.e., the heart, liver, brain, skin, and stomach. Organs are composed of different types of tissue arranged together to perform specific tasks. For example, the brain is composed of several different types including nervous and connective tissues.

Tissues

Next, we have tissues. No, not the kind you use to blow your nose! Simply put, tissues are groups of cells with both a shared structure and function. Animal tissue can be grouped into four subunits: epithelial tissue, connective tissue, muscle tissue, and nervous tissue.

Cells

As we approach the top of our pyramid, we arrive at the next level-- cells. Cells are the simplest form of living units. Cells contain structures called organelles which are responsible for everything from housing the cell's DNA, to producing energy. Processes that occur within the body are carried out on a cellular level. For example, when you move your leg, it is the responsibility of nerve cells to transmit these signals from your brain to the muscle cells in your leg.

Molecules

Molecules reign supreme on the next level. Molecules are composed of atoms and can be arranged into large molecular structures such as chromosomes, proteins, and membranes. Some of these proteins may be grouped together to become the organelles that make up your cells.

Atom

Our tour ends with the ever so tiny atom. It takes extremely powerful microscopes to view these units of matter (anything that has mass and takes up space). Elements such as carbon, oxygen, and hydrogen are composed of atoms.

Summary

So there you have it. The pyramid of life is a hierarchical structure for the organization of life. To summarize, the organization for complex organisms goes as follows: ecosystems, organisms, organs systems, organs, tissues, cells, molecules, and atoms.
---
Permissions in this forum:
You
cannot
reply to topics in this forum